The Campaign to Create
Brodhead Creek Heritage Center
Brodhead Watershed Association and Pocono Heritage Land Trust are partnering with Stroud Township in a campaign to make ForEvergreen Nature Preserve in Analomink a natural hub of community life connecting people, land and water.
.
The Brodhead Creek Heritage Center at ForEvergreen Nature Preserve provides much-needed office space for PHLT and BWA and a meeting room for community programs. In addition, the Heritage Center houses a small museum with displays on the history of fly-fishing in the Brodhead watershed- birthplace of American fly-fishing; the Flood of 1955, the impact of water on people; a "raptor wall" with info on raptors found at ForEvergreen Preserve;" and a 3-D map of Monroe County with rotating displays on land and water.

Fly-tying and fly fishing lessons are planned. Water education class space is available to local environmental education centers. Streamwatcher classes will train volunteers on how to monitor their local streams. Kid-friendly activities are planned, including the ever-popular chance to get wet!
The Brodhead Creek Heritage Center is designed to provide space for community events focused on people, land and water,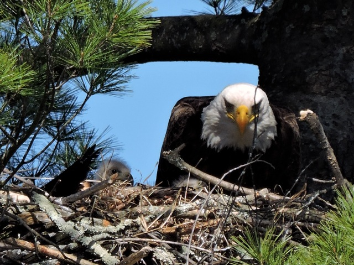 An eagle-cam is planned to give an up-close look at the preserve's resident eagles as they maintain their nest and feed and raise their young, with monitors in the Heritage Center and a live feed visitors can follow online.
.
Other outdoor resources will be geared to different age- and interest-groups, a natural-materials playground for toddlers and preschoolers, interpretive trail signage, trail-cams to capture wildlife activities, and habitat enhancement and interpretation sites.